Professional Pathways
---
Holistic career exploration and professional development starting in year one
To support lifelong flourishing, Emory is taking an intentional approach to career exploration and professional development—connecting students not only to potential employers and opportunities but to an expanding ecosystem of alumni, parent, and community mentors who can help them discover meaningful postgraduate lives and opportunities.
Career Guidance
"The Pathways Center has the potential to provide amazing support for a diverse group of students, including those who may need additional resources and guidance. It is very encouraging to see Emory create such a meaningful initiative to aid students in discovering their postcollege journeys."
—Joy Knowles 22C, member of the Pathways Search Advisory Committee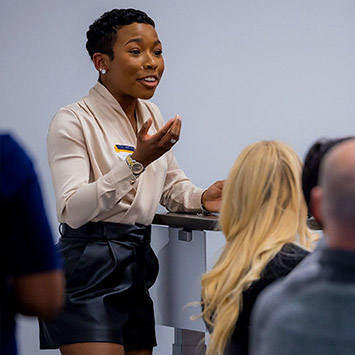 What's New: Professional Pathways Highlights
The Pathways Center
Launching in fall 2022, the Pathways Center will help Emory College students and alumni reach their full potential through integrated career services, undergraduate research, national scholarships and fellowships, pre-health advising, and experiential learning. Led by Branden Grimmett—Emory's first vice provost for career and professional development and associate dean in Emory College of Arts and Sciences—the center will serve as a national model for higher education in seamlessly preparing students for and connecting them to competitive internships, full-time employment, graduate and professional school, and postgraduate fellowships. It also will serve as a single hub for recruiting Emory talent, attracting top employers locally, nationally, and globally.
Pathways Center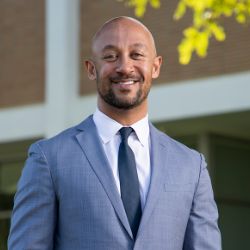 Oxford Center for Pathways and Purpose
The counterpart to the Emory Pathways Center, Oxford's CPP will provide a nexus to support student flourishing on the Oxford campus. Launching in fall 2023, the center will bring together leadership initiatives, community-engaged learning, global study, internships, and career services at Oxford and connect with related programs in Atlanta. Among the center's highlights is Oxford's recently expanded internship and fellowship program, which features both endowed and college-funded summer experiences that help students connect their classroom work to real-world organizations.
Programs at Oxford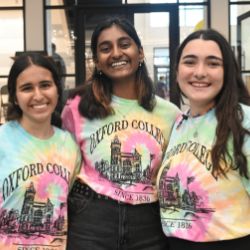 Capturing Co-Curricular Activities
Available in fall 2022 from Emory Academic Innovation, a new co-curricular catalog will connect graduate and undergraduate students to an array of school- and unit-based short courses, certificates, and experiential programs focused on developing entrepreneurship, digital literacy, leadership, job-related competencies, and other high-value skills. The catalog paves the way for a co-curricular transcript that will allow students to showcase their activities to future employers and graduate programs.
Co-Curricular Catalog